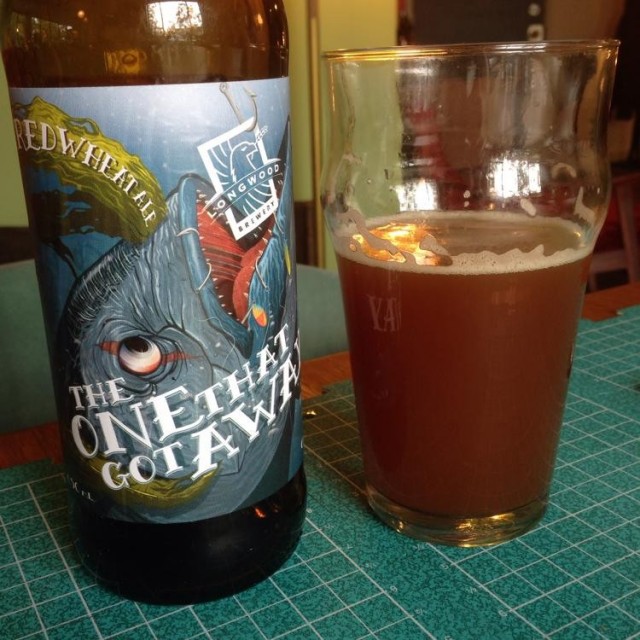 Brewer: Longwood Brewery, Nanaimo BC
Style: Wheat Ale
Alc/Vol: 6%
Description: Inspired BC Tough's annual West Coast Tuna Shootout, a fishing derby that takes place in the wild waters off Bamfield, BC, this wheat ale is crafted using 50% Wheat and a healthy dose of Crystal Malt. The end result is a copper colored, unfiltered ale that is cloudy, malty, and effervescent.
Tasting Notes: Last summer, I had my first sampling of this beer and was not very pleased. I chose to not to review it that time, thinking it might be a bad bottle. However, a subsequent tasting confirmed that the beer was in fact quite coarse and somewhat metallic-tasting. However, this latest batch, recently released with a new bottle (as you can see from the picture above) was surprisingly better. While it still has that characteristic, slightly bitter tang to it, this is nicely balanced amidst flavors of yeast, some tart fruit esters, and a bubbly character. I am therefore upgrading this beer a full point!
Appearance: Dark amber, cloudy, good foam retention and carbonation
Nose: Wheat malt, tart and bitter fruit esters, minerality, yeast
Taste: Wheat malts, tartness, yeasty effervescence, sour cherry, citrus
Aftertaste: Lingering malt bitterness, minerals and yeast
Overall: 8.5/10